Welcome to Mulberry Osteopaths
Easing of Restrictions . . . . . .
With the easing of restrictions across Scotland we'll be seeing a few changes at Mulberry House. Having spent a few more months rattling around in the building with a couple of acupuncturists and psychotherapists it'll be really nice to have a few more therapists back in the building. It'll be even better having some reception cover again so there will be someone at the reception desk to answer your calls if you need to phone in. The phones should be manned during the mornings from Monday to Friday.
As predicted it's been a very busy Spring and we're not out of the woods yet so please bear with us as we try to fit you in for your appointments. Hopefully having the other therapists back on board will help to spread the workload but we're still trying to keep on top of the various gardening related injuries, working from home problems and no doubt the gym induced damage will start another wave! Please be careful . . . .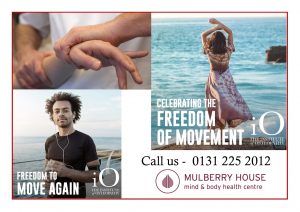 Mulberry Osteopaths Coronavirus Update.
Monday 26th April 2021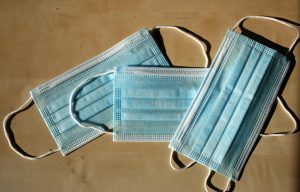 Since returning at the beginning of July 2020 we're now well in to the new way of working. We're not back to 'normal' and probably won't be for some time to come but we're working well and things have been very busy.
To operate safely, adhere to social distancing and with increased hygiene measures we are working with a reduced clinic timetable with usually only one osteopath practicing at any one time. This means being able to see less patients in each clinic session to allow for cleaning routines to be carried out between patients.
As a result of the Covid-19 restrictions we have reduced reception cover for the moment although there will be someone taking calls during the mornings.  Remote reception cover is in place so e-mails will be picked up and answered. E-mail is still probably the best way to contact us just now.
Follow the link for information regarding our temporary clinic timetable.
Follow this link for information regarding what to expect when you attend for an appointment during this phased return.
Although there is now a limited reception cover you can also make appointments via the Mindbody App or by e-mail.
Telephone messages will be picked up periodically but e-mail remains the preferred way to contact us.
---
Patrick Harding formed Mulberry Osteopaths in 1999. We now have a team of three Osteopaths working at Mulberry House in the West End of Edinburgh.
Osteopathy is a safe and natural therapy that focuses on the framework of the body consisting of the bones, ligaments, muscles and connective tissues or fascia. Osteopaths assess the condition of this musculo-skeletal system looking for areas of imbalance or excessive strain. Any imbalance within the system will determine how well the body functions and will also have an influence on the general health of the whole body.
Osteopaths have become well known for treating back problems because they are so good at it, however, many other conditions can be very successfully treated with osteopathy. The musculo- skeletal system forms the framework that carries the body's network of nerves, blood vessels and lymphatics. It also physically supports the internal organs. The health of the musculo-skeletal system influences the health of the rest of the body.
Osteopathic treatment aimed at improving the mechanics of the body will affect such things as blood and nerve supply as well as activity of the internal organs. It is because of this that osteopathy, as well as treating the more obvious headaches,joint problems, sports injuries and postural strains, can also improve general health.
At Mulberry Osteopaths the emphasis is with 'hands-on' treatment which will be backed up with self help approaches such as the prescription of exercises and postural advice. We would hope that by offering you a better understanding of how the body is functioning we may help you to avoid recurring problems.
Please note that the Mulberry House reception is not open at this time so no one will be available to answer telephone calls. The only way to make appointments with Mulberry Osteopaths at the moment is via the Mindbody App or by e-mail.
Appointments
Call 0131 225 2012 or email: enquiries@mulberryhouse.co.uk for appointments and cancellations
General Enquires
Email Patrick with any general
enquires:
info@mulberryosteopath.co.uk