Fit at Forty . . with dance
Scary birthdays
It is a year of scary birthdays at Mulberry Osteopaths. Patrick has already announced that he is hitting the big 60 this year, although I'm not sure I believe him, he looks very well on it. Whereas I (Jane) will hit the big 40 in April – Eeeek – how did that happen, I'm sure I was twenty just five minutes ago? I have already made plans for my birthday week – yes I said week, I am going to embrace 40 and do it in style. If you are one of my patients, I apologise now, as I am sure I will bore you with the details as it draws closer.
Fit at forty
About two years ago, I made a pledge to be fit at forty, and I wanted to use my opportunity to write a blog to talk about that, in the hope of inspiring at least one of you to make some changes.  When I found myself post osteopathy school with a BMI that categorised me as overweight, I knew something had to change. I initially faffed around with diets, but they were not sustainable and I always fell off the wagon. I soon recognised that rather than starving myself, I needed to make a positive life long change, combining food and exercise. I now eat reasonably healthily, I have cut down on my refined sugar intake, only allowing myself treats at the weekend, which is much more achievable than banning sugar outright, and I have also reintroduced dance into my weekly routine.
Dance and its benefits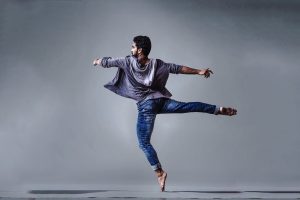 Without a doubt, the most important step has been to exercise. I danced from the age of about four to seventeen, learning ballet, tap and occasionally jazz. So it was no great surprise when I started dance again that I became totally obsessed – I'm currently taking two zumba classes, two ballet classes and a tap class a week. It is challenging, it is at times exhausting (to quote my ballet teacher "ballet is beautiful, beauty is pain"), but I am always motivated to go, and that is because I love it. I would probably do more if I could afford it.
Dancing is so beneficial to your physical and mental health. Physically, it improves muscle strength and tone, visceral health, aerobic fitness levels, posture, balance, coordination, agility, mobility, flexibility, bone health and energy levels. It also helps with weight loss. For me, and depending on the style of dance, I burn 500-600 calories in an hour class, which makes me feel far less guilty on the days I can't resist a slice of cake.
The mental benefits are huge too, and often overlooked. The BBC broadcast a programme called 'Darcey Bussell: Dancing to happiness' in December, which followed four different groups, with differing health issues, to learn how dance was benefiting their lives. It is well worth a watch if it is still available on the BBC IPlayer, but a brief synopsis is that dance can benefit:
·  Teenagers coping with issues such as anxiety, depression and confidence/self esteem.
·  Those diagnosed with Parkinson's, as dance benefits their mobility, balance, fatigue, social behaviour, mood, motivation and memory,
·  The over 50's through the Silver Swan ballet initiative, which is targeting those nearing or in retirement who might be unfit, isolated or lonely.
·  People suffering with Dementia (filmed at the Eric Liddell Centre in Edinburgh), challenging and improving their memory and movement.
Am I fit at forty?
The combination of less sugar and my weekly struts around the dance floor has helped with weight loss. I am back to a normal BMI, although my weight seems to have plateaued, but maybe that is because I have found my healthy adult weight. My jawline and waistline have definitely made a comeback, as has the faint outline of some abdominal muscles, but most importantly, I feel fit and strong, I don't get out of breath when I would not expect to and I don't get reflux anymore. Additionally, I find such joy in dance, in learning a new skill, in perfecting something I already know, in challenging my memory and in meeting people and making new friends with shared interests.
Next steps
I still need to work more on flexibility. As much as I would like to, I don't think I will ever achieve the splits, however, I would like to feel more flexible, and maybe hold my leg at ninety degrees in ballet class with greater ease. Also, if I am going to survive a career lent over a treatment couch all day, I need to find some sort of routine post work to look after my spine. So my next steps are more stretching and maybe yoga. Perhaps I will wax lyrical about that next time.
Have I inspired you?
If you've lost touch with dance, and want to return to it, or if you want to try it for the first time, you are in a fabulous city to do so, there are so many schools and different classes/genres available. Although I love to bang on about dance, I understand it isn't for everyone. If you recognise that you need to make some changes, but aren't interested in dance, perhaps think about what it was that you loved to do as a child, as chances are you will still enjoy it and this will be your motivation. If you can't think of anything, why don't you try fitting exercise into your day, such as walking to work. Walking is so much more enjoyable than getting the bus, and it's free. With spring/summer approaching, it is the perfect time to try. A decent pair of trainers, a top you don't mind getting sweaty and some headphones to listen to the radio or a podcast are all you need.  Whatever you do, just do something to make a positive change. It is never too late.
« back